Body Tracker for desktop
Windows Compatible
Use six body fat calculators to record body fat percentage
Unlimited clients
Record body tape measurements
Record your macronutrients
Record Blood Pressure
BMI and BMI Calculator
Store pictures of yourself to see your progress over time
Graph all your results
One Rep Max Calculator
Unlimited Clients
$19.95 Add $20 for CD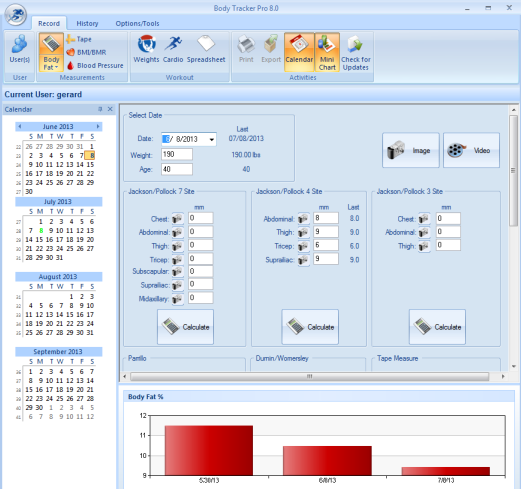 Leaders in body-measurement software
We've been developing software for 19 years

Since 1999, we have focused on one simple goal: making easy-to-use software so you can calculate your body composition using our body fat calculators, by yourself, with no prior experience.

Used by professionals around the globe

Since it was first released 19 years ago, Body Tracker has been purchased and used by professional bodybuilders, figure competitors, personal trainers, gyms, and even a professional baseball team.

Our body fat calculators are a snap

Why spend money and time having somebody else calculate your body fat percentage when you can do it yourself. Body Tracker will guide you every step of the way.

See pictures of yourself as you lose body fat

Nothing is more motiviating than seeing pictures of yourself as you lose body fat. View your photos with your associated body fat percentage and measurements.