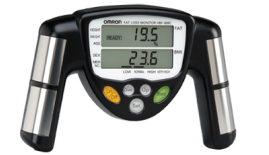 Fat Calculator Analyzer
Manufacturer: Omron
Model: HBF-306C
Using the Omron Body Fat Calculator Analyzer to measure your body composition is a great way to track your progress and guide you to good health and wellness. Simply input your data and grip the unit for results in seconds.
Product Description
Accurately track body fat for a lean, healthier you! Fee great about your fitness and weight loss efforts, - even when the scale may not show the numbers you want. Tracking your body fat percentage (instead of just body weight) lets you know you're losing the "right" weight - fat instead of muscle.
Personal trainers PREFER and RECOMMEND the Omron Fat Loss Monitor. In addition to being used worldwide, you may have seen the Omron Fat Loss Monitor in your gym or fitness center. That's because it's also trusted by personal trainers - for its accuracy and ease of use. Most personal trainers track their client's body fat as a key indicator of exercising and healthy weight loss success.
Accurate Technology In Your Home. This monitor uses bioelectric impedance to measure your body fat versus lean body weight. Simply input your personal data and grip the unit. It sends a gentle current through your upper torso to measure in seconds.
Features:
Stores 9 personal profiles plus guest
Measures in normal or athlete mode based on the Omron FIT index
Set to US or Metric system
Instruction manual includes recommended measurement times, BMI Calculator and Body Fat Calculator % guidelines by age and gender, how to calculate your FIT index and more!
This analyzer works well with our body fat calculator software, Body Tracker